How you learn German
If you are a self-learner, you have to take care of 2 things. First, you have to research, plan your learning process, and identify the best apps for learning German. Second, you have to be disciplined enough to actually do the learning itself and stick to the plan. The goal of this post is to help you quickly move from the first, rather uninspiring and administrative, step to the second step.
Before we go to the list, I want to explain how I organized the apps and websites. I call this "the learning lifecycle" and it's quite helpful in tackling step 1 discussed above.
The learning lifecycle is the process of how a new piece of knowledge transitions from the moment you discovered it to the moment it gets applied.

me
If you think about how you learned the last word and break down the process from the time you first encountered it to the time when you used it in speech or writing, you will see that learning almost anything follows a similar pattern:
You first discover it – a new word, phrase or grammar problem you encounter in a book, conversation or class
Then you want to understand it – you look up in a dictionary, google it or read about the grammar rule
Then you learn it – you either write it down in a notebook and review it, create flashcards or use some app to memorize it
And finally, use it – in a conversation or email
If we draw a diagram, it could look something like this:
The way I organized the tools and resources below follows this approach.
Best resources for discovery
Deutsche Welle
I never get tired of giving accolades to the team behind Deutsche Welle. An absolutely amazing resource for learning German. I am not a big fan of their language courses, but the content they created around these courses, the series, documentaries, shows and regular posts they create are just invaluable if you want to push your German to the next level. And most importantly it's absolutely free. I listed some of the best resources they have in this post.
Youtube channels
There are two types of channels you should follow. One type is German language teachers trying to help you learn German through their videos. Many are useless, some are amazing though. For example, this channel is amazing if you are beyond B1 and trying to reach B2 and C1. This channel instead is great for the beginners.
Learning German with Books
Learning German through books is fun. You can start reading basic books already at A2 – fairy tales, comic stories, children's books. Closer to B1, you can start reading adapted books. These are usually bestseller books adapted for language learning. Here I have listed my most favorite books and reading resources for A2 through B2 learners.
Deutsch Perfekt
Deutsch Perfekt has a website with great content, but their main benefit comes if you are subscribed to their monthly magazines. Unfortunately, if you are outside the EU, it could be a hard fit. What's so good about their monthly magazines? They publish articles for easy, medium and advanced levels, provide key vocabulary with definitions for each of those keywords and include some cool exercises and thematic content in every edition. For example, in the last edition, they shared a pamphlet with all the key vocabulary related to communication, email, social media and websites.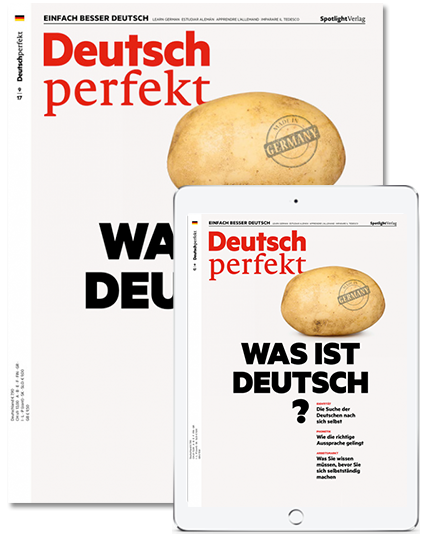 Learning German with Instagram
So far still the darling of the social media world, Instagram is a great source of a daily dose of German vocabulary, quotes, grammar challenges, and even German humor =). There are a few channels that post such content daily. You can also follow our kwiko channel to get daily thematic vocabulary, tips for common mistakes and some humor.

Best web tools to understand what you discovered
Google it, with a tweak
One solid way to quickly understand what a word means is to google it. Many people google for the translation, but I usually google for meaning or "Bedeutung". This way google search returns the definition of the word, as well as, its translation. In addition, it shows you the example sentences.
DeepL
While Google translate is the definite leader in the online translation business, there is a much, by far, a few light years ahead solution called DeepL that translates much more precisely and also suggests synonyms if you feel that the translation is off. Also, it provides a detailed entry about the word or phrase in addition to translation. Sometimes those extra entries even include usage examples. When I am studying at my computer, DeepL is my default translation service I use to translate new words or phrases or simply to better understand the entire sentences.
Understand the word in detail on Duden
Duden is my go-to place for more detailed research about a word. If I want to know how frequently a phrase is used or get a few examples for each of its meanings, Duden is a reliable source of such knowledge. Duden is not good for phrases though.
Find examples on Reverso Context and Linguee
Reverso Context and Linguee are my favorite websites for looking up example sentences, as well as, conjugations or verb forms in different tenses. There are more similar tools, but I like the design better and somehow I always find the right examples exactly on either of these websites.
Drive it into your long-term memory
Our memories tend to fade with time. To win in this race, your brain has to first realize that this new piece of information is important for you and then grow solid, rich neural connections around this information. One proven way to do this is spaced repetition – spacing our reviews of the new knowledge to make sure it remains in your long-term memory. Read more about it in this post.
Anki
Anki is a tool I respect and admire a lot – despite all the UX and UI deficiencies, it's one of the most effective tools to help you retain almost anything in your long-term memory. It's originally designed for the desktop. That said there are a few custom-built apps based on Anki (as it's opensource), some are paid. Unfortunately due to this fragmentation, you will need to test a few apps to find the one that works for you.
kwiko
If you are looking for a simpler solution designed specifically for language learning, then try kwiko. It's your digital vocabulary notebook, but 10 times smarter – the app helps you memorize new vocabulary and never forget it. For now, there is an iOS version and the Android version is coming in a few weeks.
Time to use what you learned
Learning German also means speaking and using it. One challenge that many learners face is that they often stop at the previous step and fail to use what they learned. It's no surprise as it's the path of the least resistance – almost everything up to this point can be done from the comfort of your home with a few apps installed on your phone. Easy peasy. But if we are fully honest with ourselves, then we all know that we learn to use, not for the sake of learning. Therefore our ultimate goal of learning anything must be to find ways to put what we learned to use.
Note that there are 2 ways to use what you learned – active and passive. Active use is when you actively recall and use a new word or phrase or a grammar rule. A passive recall is when you encounter this new knowledge in a book or movie or in a conversation. Both are useful, but speaking is a skill in and of itself. Nothing can teach you to speak other than speaking.
iTalki
iTalki is my go-to platform to find affordable German tutors to practice my conversation skills. Although I live in Germany, I still don't get to practice my German often enough due to the nature of my work (learning German when everyone around speaks English turned out to be hard😂), but iTalki comes to my rescue. I have met so many amazing teachers living all over the world and helping thousands of people like you and me grow their speaking confidence. You could also find professional teachers who could run structured lessons, but I use iTalki exclusively for speaking practice.
Pro tip: Find teachers who are willing to spend a bit of time to make the classes fun and exciting. Great teachers do their best to make the classes effective and fun – my tutor, for example, sends me links to interesting (often controversial) videos and articles and then we discuss them in the class. This teaches me to express my ideas, debate constructively and learn new topical vocabulary.
Meetup
iTalki costs money and not everyone might afford that. Don't get discouraged – meetups are amazing events to practice your German for free. Go to Meetup.com and search for the German language practice events. If there is none in your city – why don't you organize one for example via Facebook? German is the 5th most widely learned language and I guarantee you that you are not alone in search of German practice.

Parting words
This is the process, the tools, and resources I use to improve my German. I'm learning German not just for fun, I live in Germany and want to be able to communicate with Germans in their own native language. I never attended classes after A2 and soon will be sitting my B2 test. I wouldn't be able to advance so confidently without combining all these tools together. Feel free to reach out if you have questions or want to suggest adding anything else to this list.
Mach's gut,
Sher